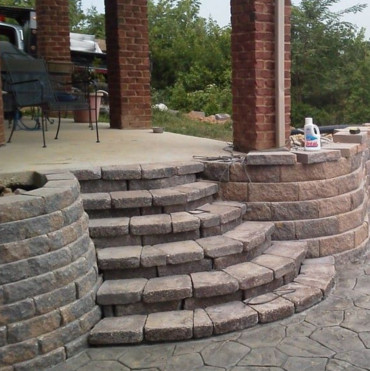 What is one of the happiest days of the year for many of us? It is that day when we can step outside without layers upon layers of clothing, without shivering, without checking the weather for the next winter storm, and spend some time on a patio that gives new meaning to the expression outdoor living. At Greenscape Enterprises, we often hear from our customers that the addition of a Greenscape-designed patio turned their house into a year-around home. Their expanded living space made being at home better than ever!
Homeowners everywhere are extending their living space these days with a great patio. The urge to be outside, to relax, to be comfortable and to enjoy your solitude sometimes and the company of friends and family at other times can be satisfied when you work with Greenscape Enterprises to design and build your patio. When you live in Central Kentucky, you have an extended calendar for outside living: those bonus days in March when spring sunlight pops through all the way through Thanksgiving provide you with a great return on your investment with a long stretch of great spring, summer and fall weather for enjoying your patio.
When your mind starts wandering toward thoughts of spending quality time outside, Greenscape Enterprises is ready to help you make that dream come true. Greenscape has great ideas on the look for your patio, from the full range of materials available to the design that works best for you. As a full-scale landscaping company with a lot of experience in creating great looking patios, we will suggest, design and execute your new patio, taking into consideration the property surrounding your patio and utilizing the most beautiful and healthy plant materials to complete the look.
Your patio will become the focal point of outdoor entertainment, dining and relaxation. Once you decide upon the look you want to create, you will see that the selection of materials to use in building your patio has never been better. Decking materials, bricks, stones and pavers come in a variety of hues and textures, providing unlimited possibilities. Because Greenscape Enterprises has been building patios for years, you will benefit from what we have learned about the best in design, building materials and landscaping.
When you come to Greenscape for patio construction, you will be dealing with experts in the business. You will love our ideas, you can trust our work and you can relax knowing that we will work within your budget. We will not be satisfied with your patio until you are satisfied with your patio. We are Kentuckians who truly believe that we live in one of the most beautiful places on earth and that the beauty of Kentucky is to be enjoyed from the moment you step out your door onto your Greenscape patio.
Also View: