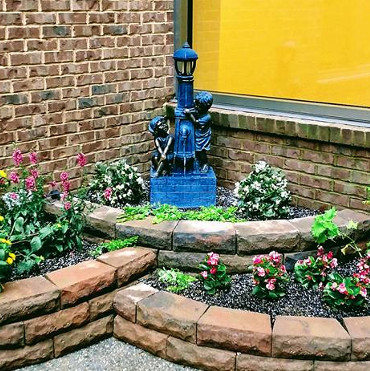 Almost all landscaping projects, whether commercial or residential, call for some hardscaping, the use of hard products alongside vegetation. In addition to the natural elements that go into your landscaping design, hardscaping is called for as you build a patio or other outdoor living space, integrate pathways, walls and other features to create a functional and visually appealing outdoor experience around your home or business. Greenscape offers hardscape services that combine attractiveness, function, ease of maintenance and durability as we plan for your landscape work.
When you talk with us at Greenscape Enterprises, you will experience our commitment to excellence. Our work will begin with a visit to your home or business to get an accurate picture of the property which we will be enhancing. Our experience in hardscaping and landscaping in the Central Kentucky region is a great foundation for us to provide you with a finished product that will exceed your expectations.
The array of products available for hardscaping today is unbelievable! We will help you to review your options with materials including bricks, pavers, all types of stones and more and, with your input, put together a design that will be both stunning and functional. Today's best hardscaping often includes retention walls and we have experience in building retention walls that not only serve structurally but are a stunning feature in your plan.
Just as in landscaping, hardscaping must be done correctly, with the right design, the right materials and professional installation. Hardscape is an investment that can definitely enhance the look and the value of your property, but it must be done correctly. Hardscaping involves significant physical labor and the staff at Greenscape is up to the task! Failure to hardscape right can result in detracting from the beauty of your property, all the more reason to use the experts at Greenscape to create the hardscape and landscape of your dreams.
Your hardscaping will be unique. You will not see your plan down the street at a neighboring home or business. How can we do this? Easy! We create a partnership with you that will take your ideas and our suggestions, put them together and create an end product that will have your own signature on it. We stay current on the latest trends in hardscaping, the materials that we have, in our years of experience, found to work well and the new materials, whether natural or man-made, entering the hardscape market.
Landscaping and hardscaping is a great investment that definitely brings returns. Not only will you enjoy the beauty of your investment – a well-done landscape and hardscape can enhance your property value. The best looking landscaping creates a balance between landscaping with healthy, attractive vegetation and hardscaping done right to enhance and create function.
Also View: