Hardscape Landscaping Companies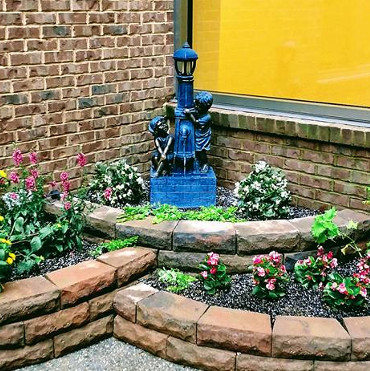 Greenscape Enterprises is a full-service landscaping company, located in Central Kentucky, providing landscape and hardscape improvements to the many locations that make up this beautiful bluegrass region. Property owners recognize the messaging that landscaping delivers: this property is beautiful, not-so-beautiful, designed, haphazard, well-maintained, abandoned. What is the message that you want to send? At Greenscape, our years of working with both commercial and residential clients have prepared us to offer you talent, experience, professionalism, creativity and respect for your budget.
More and more, hardscape landscaping companies are offering their services to property owners. Hardscape, the use of a variety of materials to add interest and function to your landscape, is clearly recognized as an excellent way to improve the look of your property and bring added value. The use of all types of stone, bricks, pavers, retention walls and more add an element of interest that greatly complements your landscape natural materials. Hardscape materials are widely used today to build a more attractive driveway and to create the patio or outdoor living space of your dreams.
Greenscape is well-known among hardscape landscaping companies for its planning and execution of hardscaping plans that bring a distinctive appearance to a property. We will work with you to create an exterior for your home or business that will make a great statement. At Greenscape we take customer satisfaction to a new level: We will plan together, live within your budget and fulfill your dreams. Our clients participate fully in their landscape and hardscape planing from start to finish.
We will make recommendations on the best materials to use in order to maximize your investment in hardscaping for the long term. Now is the right time to hardscape. The array of materials available to hardscape landscaping companies for attractive hardscape projects has never been better with a wide range of products available in natural and man-made materials. This makes it a great time to invest in hardscape for your property. Greenscape will help you to create a look that is your own, never a cookie cutter plan from Greenscape. You can depend upon Greenscape, a locally-owned hardscape landscaping company, to always coordinate the hardscape you choose for your home or business with the best look to complement and improve your property.
Our Greenscape employees take great pride in their work for this hardscape landscaping company. We know how important this work is to our customers and always work tirelessly to do the job well. As excited as our clients are about this work, so also are our employees as they take a particular space and beautify it to meet the expectations of our clients. Just like you, we know the beauty that great landscaping and hardscaping can bring to your home or business. At Greenscape Enterprises, a full-service hardscape landscaping company, we see our work with our clients as a partnership where ideas come alive – and the improvement to your space brings great satisfaction to all of us.
Contact us at Greenscape Enterprises so that we can get the process moving. No job is too large or too small for Greenscape, whether it is a commercial site or a corner of your lawn where you want to create an inviting space. Added beauty, added value – a winning combination.