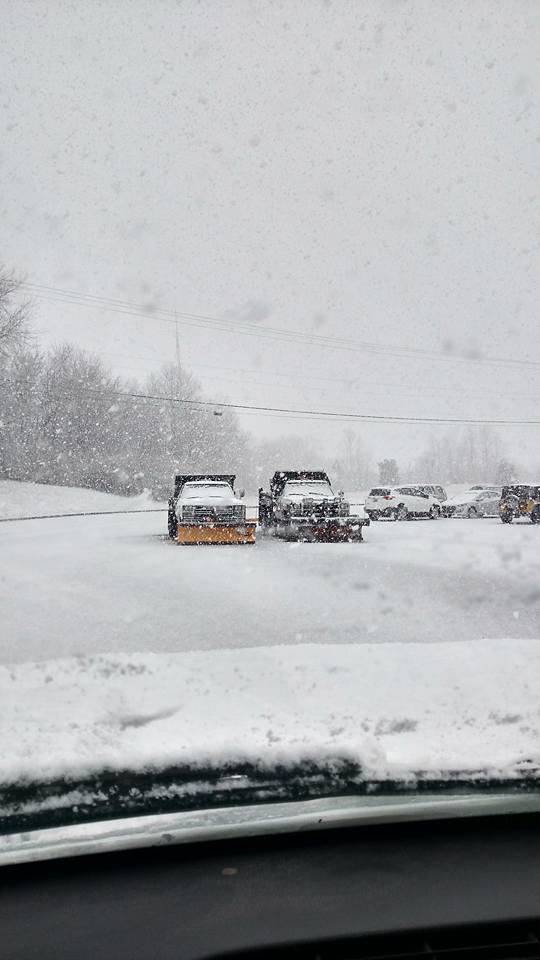 Greenscape Enterprises has been in the business of providing Commercial Snow Removal for years. Businesses located in Central Kentucky know all together too well the uncertain, quickly changing weather conditions we face in our region with ice and snow, all at the same time that businesses need to continue to function for their employees and their customers. Greenscape Enterprises, a full-service landscaping business, provides commercial snow removal services to businesses, residential complexes and other facilities that must remain functional under all of these conditions.
Snowy conditions in Central Kentucky are unavoidable and this poses a liability for businesses to maintain a safe, hazard-free property. Whether you are the business owner or the property manager, it is critical to anticipate that when weather conditions deteriorate, you have a plan in place that will do a professional job of snow removal. The responsibility for maintaining a safe site falls on the shoulders of the business. At Greenscape, we will create a partnership to work with you as snow season approaches to plan for the inevitable.
Greenscape's professionalism in providing commercial snow removal is recognized and appreciated by our clients. In order to do our job well, we know that we need to be familiar with the individual features of your property. We do not wait for the first snowfall to figure this out. To do commercial snow removal well requires an understanding of the parking lot, its curbs, its walkways, the street or road access points, any steps or changes in elevation, the sidewalks surrounding the property and business entrances. Greenscape commercial snow removal will coordinate a plan for your property well in advance of the first snowfall, allowing you to rest assured that a winter storm will not cripple your business.
At Greenscape, we monitor the storm season carefully so that no one is caught off guard when the snowflakes start to fly. We will also provide de-icing services as needed and responsibly use the appropriate materials to protect the longevity of the surfaces we are treating.
Greenscape has invested in all that it takes to provide outstanding commercial snow removal. Our well-maintained equipment is high-quality and our employees take great pride in satisfying our clients. Our employees are prepared to respond as quickly as needed and will work under the toughest of conditions to clear your property. By understanding the layout of your space to be cleared, we will provide excellent service that will make your property accessible, at the same time protecting its features such as curbs, walkways and more.
We are all familiar with the saying that "time is money" and at Greenscape we take this seriously. We know that loss of business due to a snowfall where employees and customers were not able to get in is a hard blow to any company and we want to be part of your insurance policy against that. Contact Greenscape so that we can proactively develop a strategy to keep your commercial property functional during the snowy winter months. By planning ahead with Greenscape for commercial snow removal, you will jump to the head of the line during a storm and the worry about hazardous conditions and loss of business goes away.