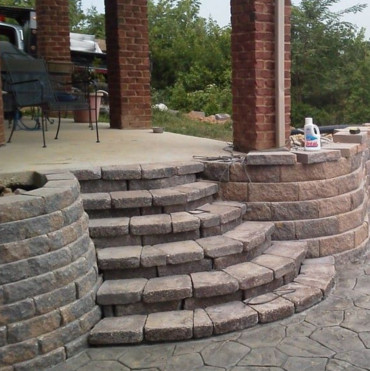 There is no time like the present to bring your dream of a great patio to life. While you love your home and you love your neighborhood, a patio can bring an entirely new dimension to your home. A well-designed patio provides home owners with an excellent way to enjoy outdoor living, bringing you closer to nature with all the comforts of home. Patios not only bring you delightful added living space to your home, they can enhance the value of your home through their attractiveness. Greenscape Enterprises, with headquarters in Berea, has been a patio builder in the Berea, London, Richmond and Lexington region for 30+ years, delighting customers with a new space for them that makes being at home better than ever.
There has never been a better time to have your patio built. The array of natural and man-made materials is constantly on the increase and the ability to incorporate a patio into the theme of your home is yours for the asking. Whether you are looking for patio builders to add a patio to your existing home or you are seeking a patio builder to work with the plans you have for your new home, Greenscape Enterprises is eager to work with you. We will stay on budget and work with your suggestions to transform your yard into that dreamed-of outdoor space into reality.
Our work in building your patio begins with a site visit at which time we will evaluate your home design, access from your future patio to the inside of your existing or planned home, the path of the sun throughout the day and its impact on when and how you can use your new patio and suggestions on the kinds of materials that will complement your home and its surroundings. When you interview a patio builder, it is similar to interviewing an employee. You want to know about the depth of their experience, places that they have worked and their ability to deliver a product that will meet your expectations. With 30+ years of experience doing patio building and landscaping in the Central and South Central Kentucky region, our longevity speaks to our ability to meet our customers goals. As professional patio builders, Greenscape Enterprises will take your ideas, use excellent quality materials, and turn this space into your favorite place to be. Our employees take great pride in their work and will build your patio to the scale of design and quality that you and your home deserve.
As patio builders, we will remove or retain existing plant materials in order to create the basic footprint of your new patio. In order to preserve the life and the look of your new patio, we will compact the soil as we prepare a solid, freeze-proof base for your patio. Preparing the base correctly is an important element in patio building. The well-prepared base spares homeowners from unattractive cracks and unevenness in the surface. As we work with you on design, we will collaborate on the use of plant and construction materials that are the most appropriate, attractive and investment worthy. We find that today's customers seeking a patio builder bring a great deal of ideas and enthusiasm to their patio project. At Greenscape Enterprises we love our full-of-ideas customers. Coupling the enthusiasm of the customer with the professional skills of Greenscape patio builders is a winning combination. We know that it is through this level of collaborating that we end up with a great patio. Our experience helps us to recognize what can be done and how to do it. At Greenscape Enterprises we look forward to working with you on your patio ideas so that we can transform your ideas into a perfect outdoor living space.
Contact us at Greenscape Enterprises so that we can get the ball rolling and move you out to the patio of your dreams!